---
IC 59 and IC 63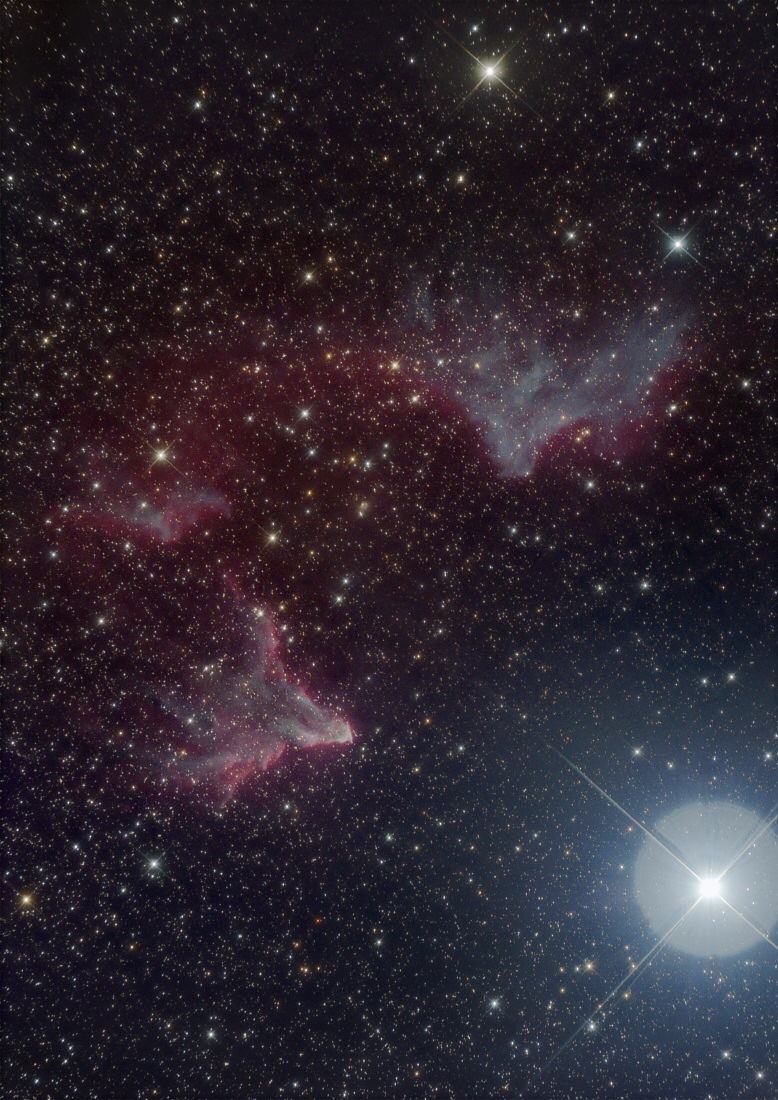 The extremely bright bluish star near the lower right corner is γ Cassiopeiae, an eruptive variable star, whose brightness changes irregularly between +2.20 mag and +3.40 mag. It is located at the center of the distinctive "W" shape that forms the Cassiopeia constellation. γ Cassiopeiae is currently evaporating the clouds of gas at the images' center which are designated IC 59 and IC 63 and sometimes called the "Ghost of Cassiopeia" nebulae. The leading edges of these gas clouds glow strongly in the intense radiation of the hot star, mostly red in the light of ionized hydrogen. Behind the emission front lies the less energetic reflection component that shines in a predominantly bluish light.
In astronomical timescales, these clouds are short-lived, and will soon be blown away into the interstellar medium.

Cassiopeia, zoom lens photograph.


NGC 7822 and Environment, zoom lens photograph.
---
Exposure Data
Instrument: 9.5" f/4.9 Newtonian
F/stop: 5.6
Exposure: 8 x 10 min
Camera: QHY8pro
Offset/Gain/Temp: 111 / 51% / -20°C
Date: October 10, 2010
Exposure start: 3:04 MESZ
Location: Edelweißspitze, Salzburg
Conditions: Visual limiting magnitude 6.4 mag, SQM-L sky brightness 21.4 mag/arcsec2. seeing 1.0" FWHM, temperature 1°C, no wind, no dew
Autoguider: Meade Pictor 216 XT, max. error: 2" (RA) / 1" (Dec)
Enhancement: Basic data reduction, combine, deconvolution, logarithmic curves, background flattening, noise filtering, star size reduction, local contrast enhancement
Notes: Photo taken during my stay at the Großglockner-Hochalpenstraße in October 2010. See an Observation Report of this event (in German).
---
---